Other Capabilities
Laser Marking, Assembly & Bending
ISPG offers laser marking, crimping, assembly and bending in our Lakewood Ranch facility.
Examples of laser marking and engraving for medical components include logos, bar coding, serial numbers, part numbers, depth marks and echogenic marks for visibility under ultrasound. It improves traceability but is particularly useful in situations where marks or labels must withstand treatments such as passivation and sterilization.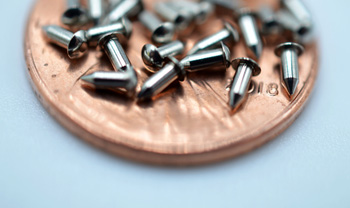 ISPG in addition has capabilities of the difficult process of crimping hypo tubing over another hypo tube. For example, for use as a stop; such as a safety needle and precious metal markers used during ultra sound. We also do bending of cannula and hypo tubes.
Custom Medical Machined Parts
ISPG also offers custom medical machined parts. Parts can be passivated and medically cleaned ready for sterilization. We can hold tolerances to +/- 0.0005".