Defining Geometry
These are sample drawings for cannulae to use as a guideline in specifying your own requirements: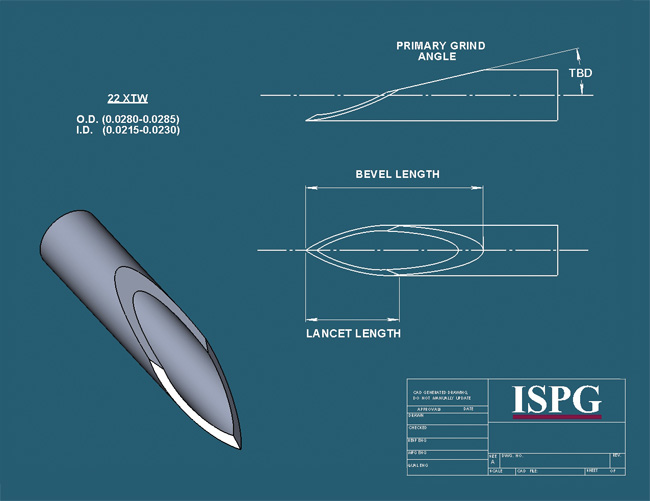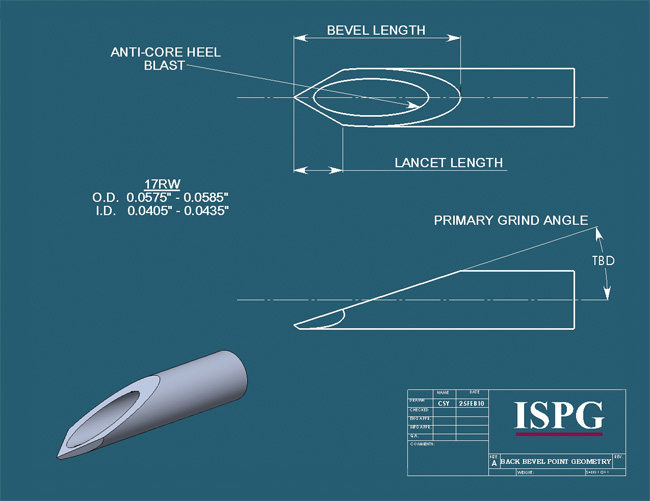 A. Steel Type:
304, 304L, 316, 316L, etc. per ASTM, AISI, ISO, or JIS.
B. Tube dimensions:
OD and ID of tube or reference either OD or ID with wall thickness
Custom tubing sizes are always available, however the use of standard tubing gauge and tolerances, per our charts, U.S. Industry Standard Medical Grade Stainless Steel Tubing Dimensions, and ISO Standard Tubing, will result in quicker turnaround time.
Standard tolerances for tubing: +/- 0.0005" (0.0127mm) on OD and ID are usually standard. Typically, half these standard tolerances are easily attainable. For specific applications, you may prefer to reference a minimum or a maximum with a +/- 0.0000" tolerance on one end. For special applications, it is helpful for us to know whether OD or ID is more important and how the product will be used. This will enable us to provide parts that will work best for your particular application.
C. Tube Surface Finish:
If your application requires this, please request either a mirror finish ID or chemically polished OD. Both add cost but may increase the functionality of your device. Our standard tubing is very smooth both inside and outside so that add-on surface treatments are usually not required.
D. Tube Hardness:
Request a range in Vickers if your application requires. If not referenced, standard tubing is ¾ - full hard.
E. Tube Surface Roughness:
ISPG uses roughness average (Ra) per micro inch or micron to measure the surface roughness of cannula.
F. Overall Length (OAL):
Request the tolerance you need. Typical OAL tolerances are +/- 0.020" (+/- 0.5mm), but tighter tolerances are not a problem.
G. Heel-to-Butt Length:
On cannulae, you may prefer to reference this dimension rather than OAL.
H. Bevel Length:
Reference the overall bevel length if required.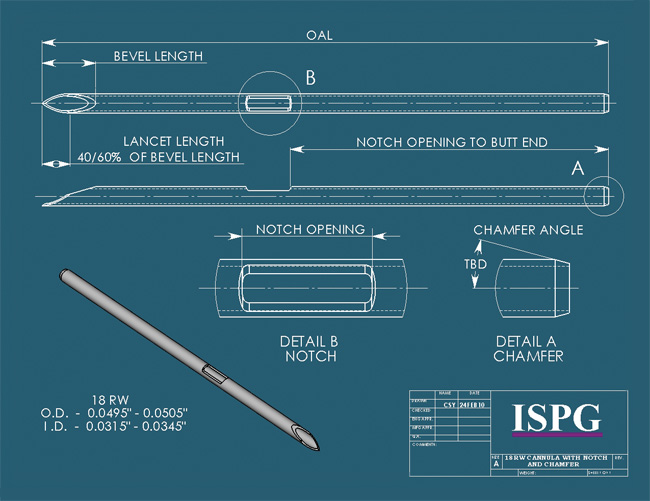 I. Point Style:
Advise the type of point, if any, on cannula. Standard bevels are "A", "B" and "C". See the Glossary and Reference Documents pages for details on how these points vary.
J. Angles of Rotation:
Reference if required. Contact ISPG for assistance on specifying product to meet your penetration requirements. We'll be happy to help you design the optimal geometry.
K. Anti-core Heel:
Typically an anti-core heel is applied on the heel of the bevel to eliminate the "cookie cutter" effect. If required, specify whether your application would benefit from a light or heavy application. Once we understand your application, we will direct the application to allow for smooth operation of other objects inside the tube, or to result in minimum coring.
L. Notches or Holes:
If required, reference notch length and depth and hole width. If any radius is required, please specify. Reference hole/notch position from the butt end.
M. Butt End Treatments:
Reference chamfer or a radius if required for your application. Parts without a specific butt end treatment referenced are produced square-cut and deburred.
N . Surface treatments:
If a grit blast is required, reference this grit blast from the butt end.
O. Echogenic tip:
The location can be after the bevel or from the tip, as you require, using several possible methods of application.
P. Penetration Value:
The amount of force (typically in grams) required for cannula to penetrate a given media. If you wish to meet a specific sharpness, contact ISPG for help in designing your optimal geometry.